TESTIMONIALS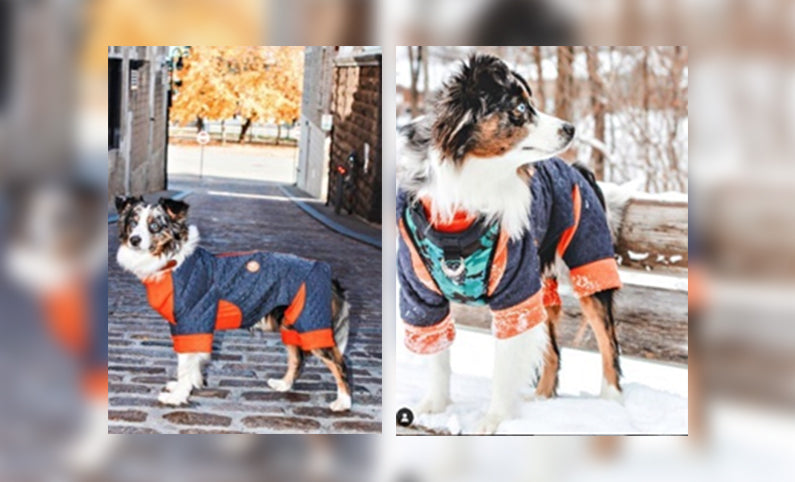 ''Chilling on the streets of Old Montreal. We've been enjoying the snow, have you?! We Love y'all. Thanks, Zippy Dynamics.''
Thatpoochsamson Canada Ontario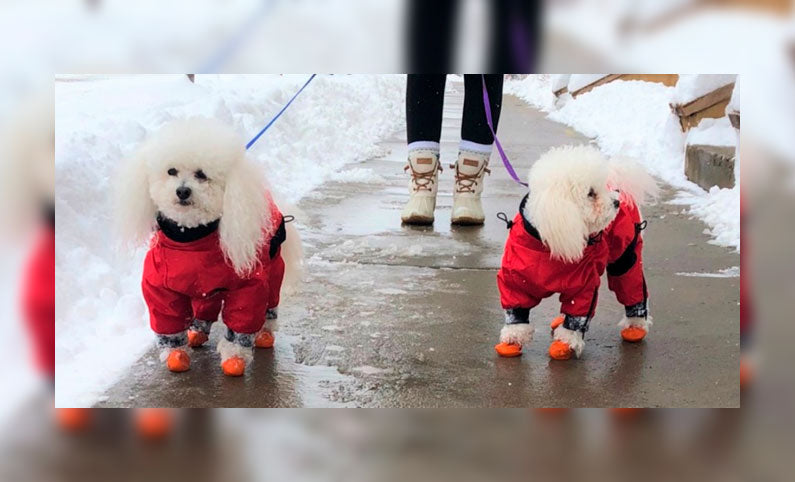 ''The Pups almost cause accidents! People going wild! Hurray! Big Big Hugs!
A lot of snow!!! No snow balls on their fur either! These suits are so awesome!
The neighborhood in the city is going wild! Zippy Dynamics is truly GREAT company!!!!''
Lynn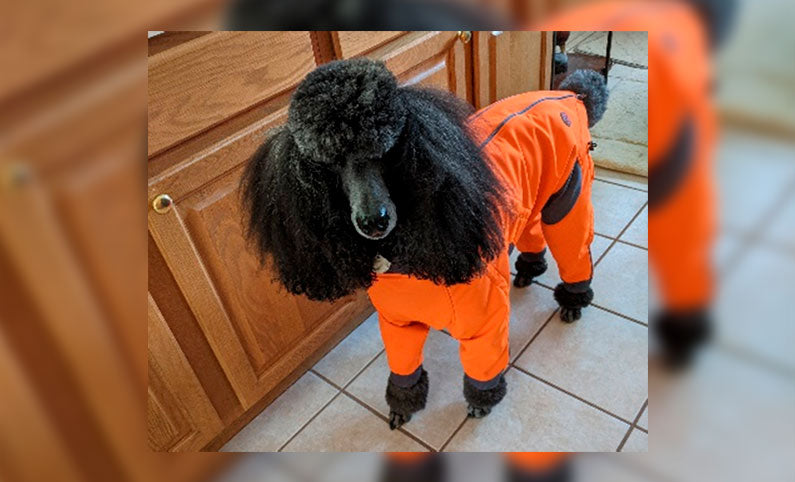 ''Mystic, my Standard Poodle, loves her Zippy coverall. Wearing it allows her to run in open pasture without getting dry grasses, stickers and weeds
stuck in her coat. I love it because there is very little brushing required after her run. The quality and workmanship are amazing.
Highly recommend Zippy.''
Dottie and Mystic. Colorado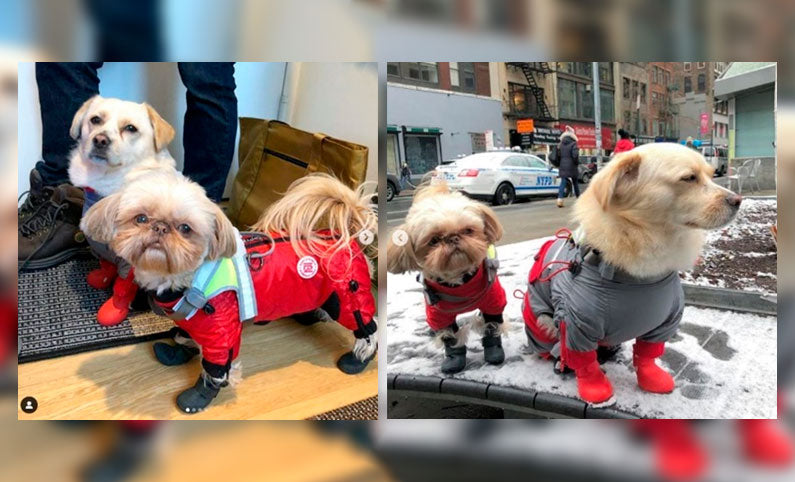 ''We love our Zippy Dynamics suits. They are warm, yet lightweight, versatile enough for the beach, rain, or snow. The 10S size fits our 9lb Shih Tzu perfectly. I love how I can adjust the sizing to our exact needs through the numerous zippers and elastics, but it is still easy to put on (no stuck hair here)! It's comfortable enough for her to run in while staying dry underneath.
Highly recommend''
Salina NY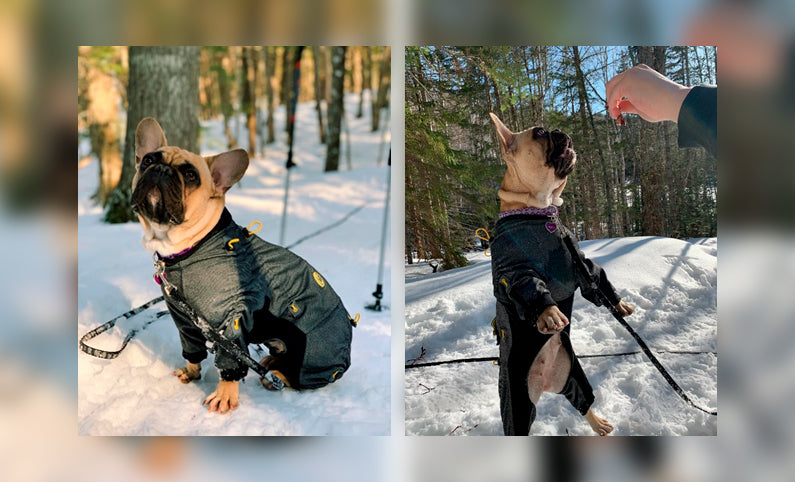 ''Dressed For the Occasion — at Ski Wentworth''.
Meli the Frenchie Nova Scotia, Canada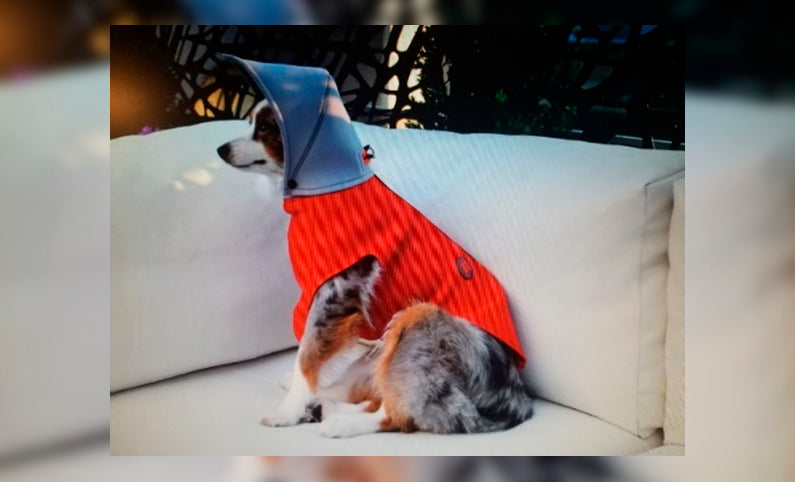 ''Absolutely loved the well-made beautiful stylish vest purchased for my dog Cali. It has kept her dry during rain and snow and warm
on a cold day while keeping her looking great. The detachable hood is such a great feature and I'm Very pleased with the quality''.
Debby Brooklyn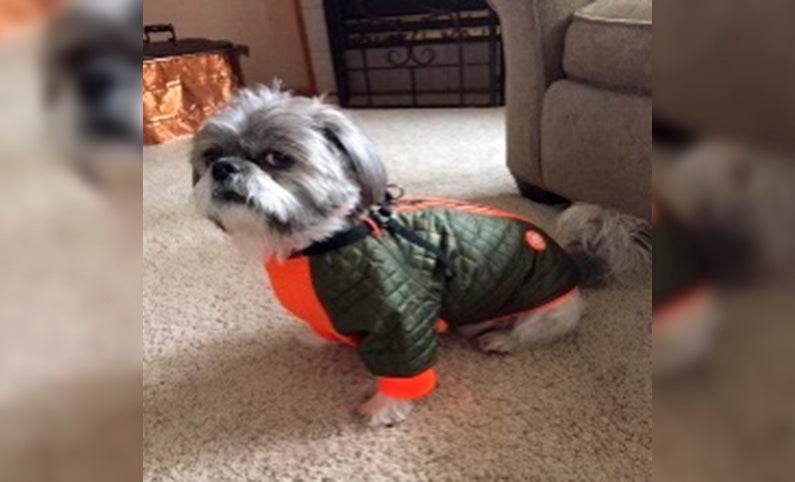 ''Wanted to share these pictures of my teddy bear, Charlie, wearing your Trendy Parka. He is 20 pounds and is wearing a size 16 which fits perfectly. His chest is broad and it's nice to have the stretchy panel. Reinforced harness attachments are a nice touch. Do wish the harness was adjustable...but the quality of the product makes up for it. Can't wait for weather here in Wisconsin. Thank you for a wonderful product!
I can't wait for additional harness coats to become available. Do know that Zippy Dynamics will be my "go to brand.
Thank you for a great quality product''.
Marcia T. WI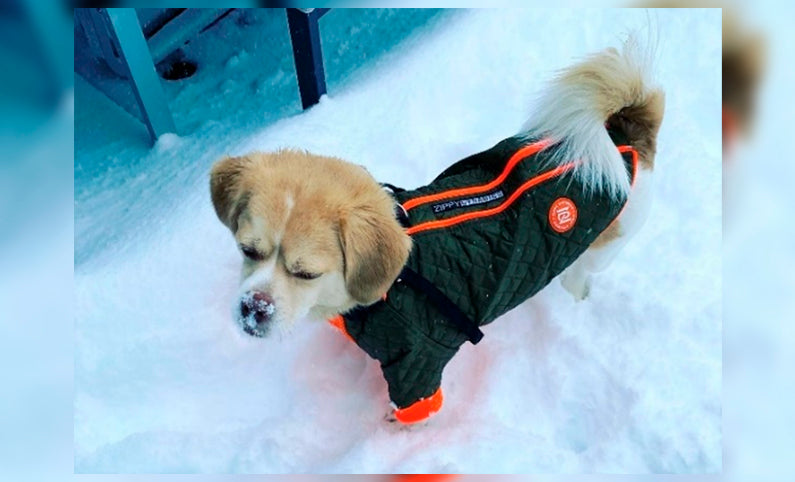 ''Harleys loving her new Attire! Easy to put on with the adjustable zippers keeps my dog warm and dry. Impressive quality and worthwhile purchase.
Highly recommended''.
Mike J. Staten Island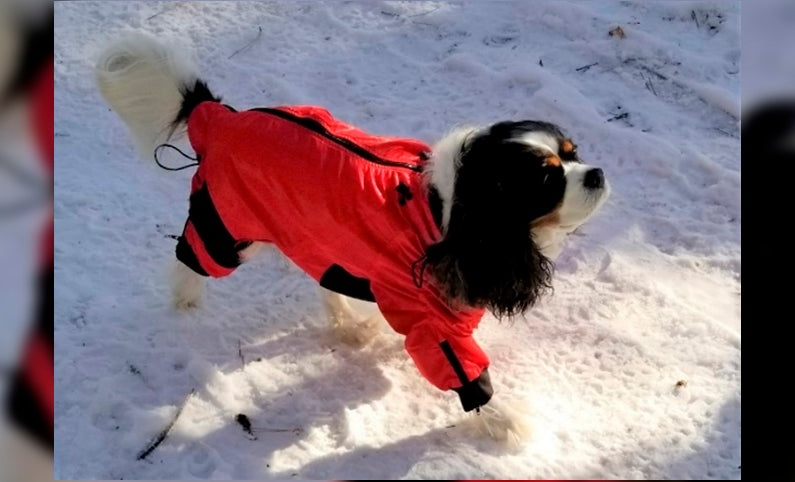 "I just wanted you to see my Callie girl in her Zippy Dynamic suit. She loves it!''
Lynn. Marquette.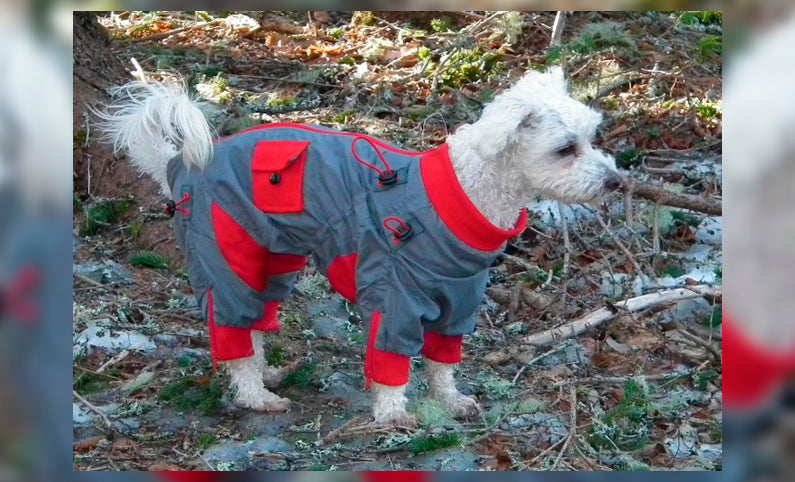 "I got Angel's coat today and OMG, is it ever adorable. The fit is amazing and I can even add a layer under if needed. I absolutely love it!"
Lynda
''We turned your jumpsuit into a race suit for our Frenchie girl Percy! ''
David Palgrave Canada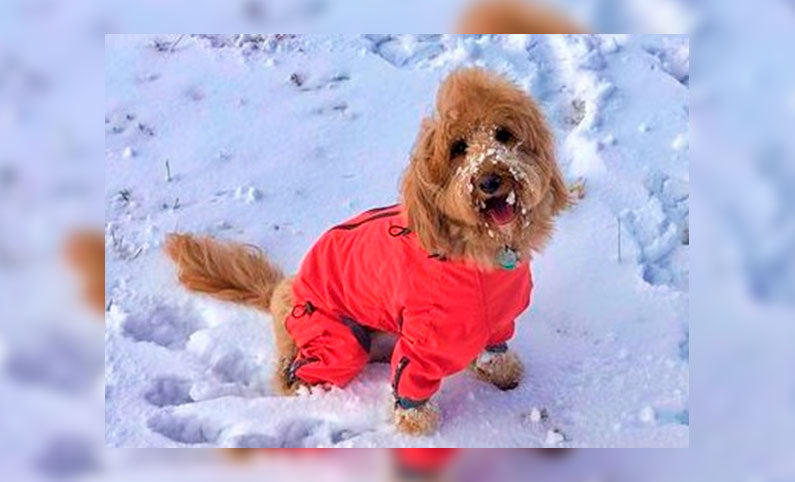 "Zippy solved the problem of snowballs all over Tess. Thanks, great product!"
Steve D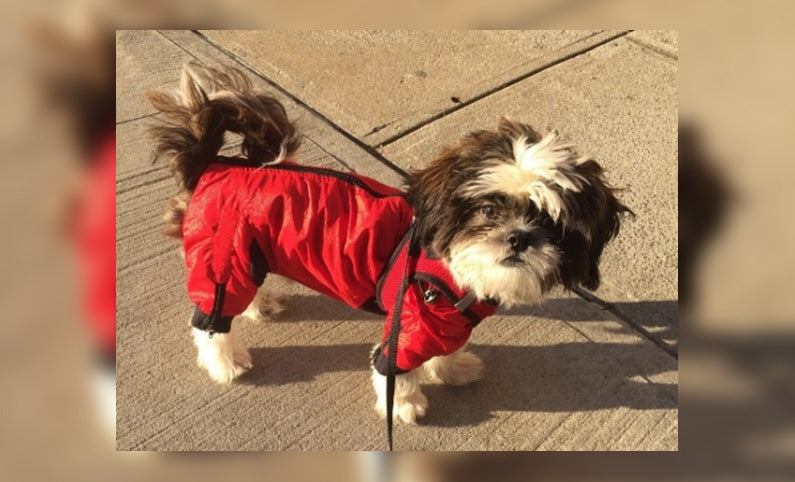 ''I had to share my excitement over my last purchase for my pup, which was my BEST! I live in Florida and this adorable super sleek and stylish raincoat is so light and the material so amazing that it's perfect for all weather! He actually loves wearing it, especially since he gets nonstop compliments and all the attention!
Thanks, ZIPPY DYNAMICS for such a great product!''
Vlada G. Florida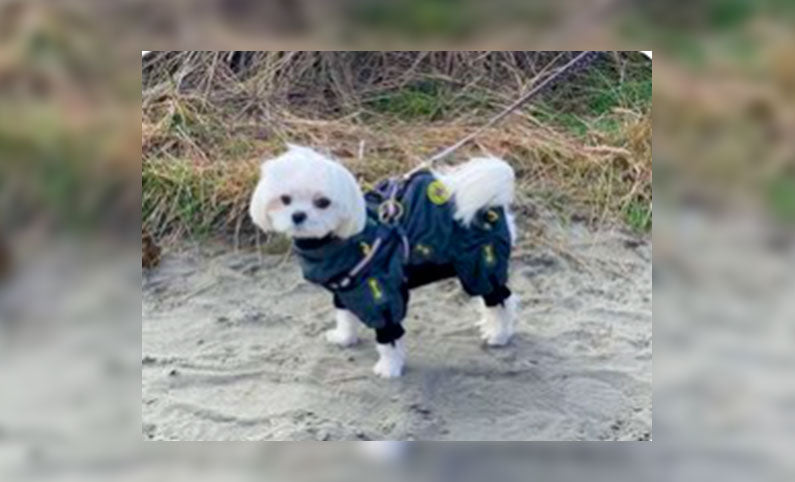 ''Our Maltese is very comfortable in hers and I'm thrilled with the quality!!!''
Lisa M.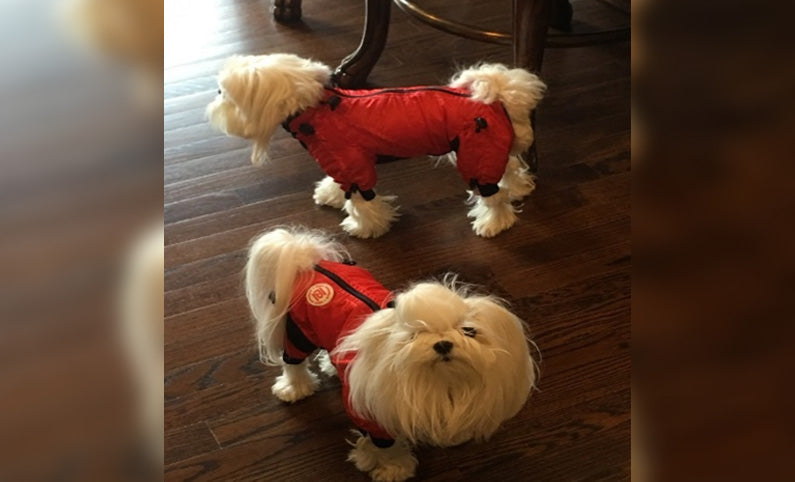 "Ready for the rain and the snow. Many thanks!!"
Réjeanne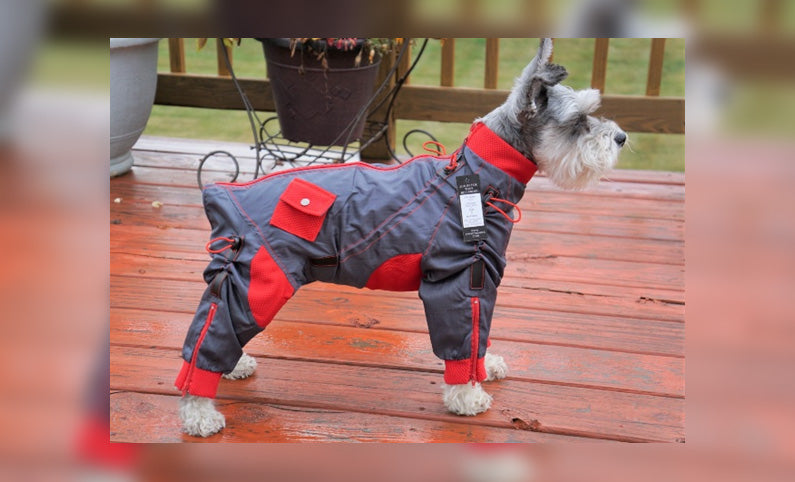 ''My husband and I both think your products are the best in the market so far. We absolutely LOVE it. It's very well-designed and the quality is great.
My husband said: "Our dogs looked so cute in that things." He kept saying that over and over; then decided to place another order for the "cozy"!
Linda L.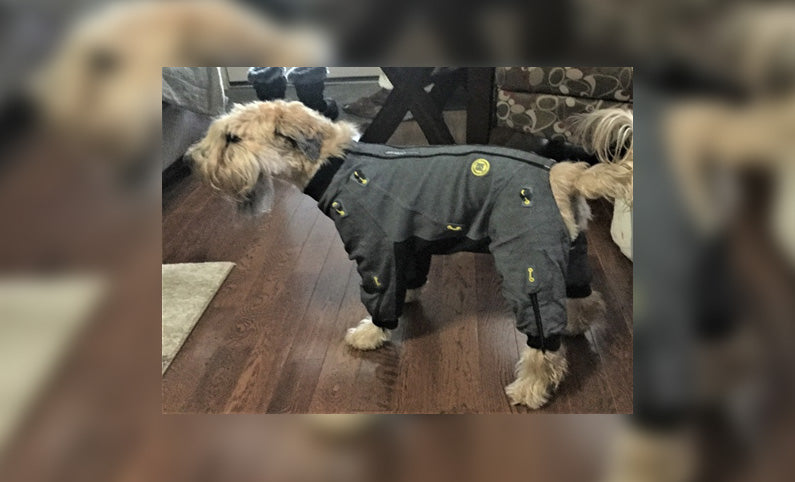 Here's my soft coated wheaten terrier in her new cozy snowsuit.
This is the first clothing I have bought that fits her right to her tail. Love the product.
Will recommend to all our dog buddies.
Denise W.
Close (esc)
Join Our Email List
We'll send you promotions, updates on new styles, and more.
Age verification
By clicking enter you are verifying that you are old enough to consume alcohol.